-------------------------------------------
WE CAN DELIVER!
Birthdays, anniversaries, thank yous & just to put a smile on someone's face
During these difficult times, if you would like a special cake delivered to your family, friends & loved ones - or just a thank you to someone who has helped you - and they live locally to Royal Wootton Bassett, then we can deliver it for you!
Please call Aunty Joy on 01793 855495 or mobile 07778831843 for full details.
Take care, everyone.
Aunty Joy
----------------------------------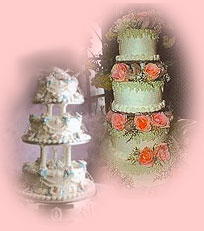 Whatever the occasion, make it special with a cake to celebrate. A cake from Aunty Joy is perfect for Weddings, Anniversaries, Christenings, Easter, Christmas or just to say thank you.
You may have already made your cake, but need to add that special finish. Let Aunty Joy take the worry out of decorating your cake with flowers and artwork carefully hand-made and tailored to your requirements...
About Aunty Joy's Cakes
I have always been interested in making and decorating cakes, so in 1992 I attended Sugar Craft courses. I then started making cakes as a hobby for friends and family which then went around the country thanks to word of mouth. It was with this good reputation that I decided to start Aunty Joy's Cakes.
What to expect from your cake.
All cakes are freshly made with the finest ingredients.
Fruit cakes are pre-soaked in brandy to make the cake lovely and moist.
All tastes are catered for, perhaps you would like your cake to feature a mixture of fruit and sponge? Or how about a chocolate, carrot or just a plain sponge cake?
Cakes can be made in round, square, petal, heart and hexagonal shapes.
Knives and cake stands are available to hire in silver or gold.
Chrome three tiers 'S' shape and acrylic separators are also available.
All cakes are tailor made to your specification, colour and size. Its your day, make it special with Aunty Joy's cakes.
The choice is entirely yours.
Hand made specialist flowers.
To add that finishing touch to your cake, why not have flowers individually made to match your colour scheme?
Gallery
Here are a few examples of Aunty Joy's Cakes. Click on a picture to enlarge.
Birthday
Other
Wedding
How to Order
As all cakes are individually made and designed for you, therefore prices may vary. For more information please call:
Aunty Joy's Cakes of Keats Close, Royal Wootton Bassett
Tel Swindon 01793 855495 mobile 07778831843
Email auntyjoyscakes@btinternet.com Now available cold finger buffets.
For more information please call the number above.